Heating Installation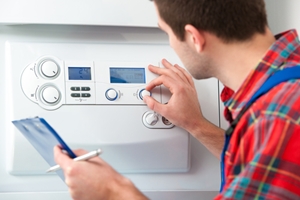 On Demand Heating & Air Conditioning is the only name that you need to be familiar with if you are in need of a pro to take care of your need for heating installation. From installing central heating for a new construction project to gas furnace installation for better energy efficiency in an older home, our heating installation specialists have your needs covered. Heating installations are not the type of work that just any HVAC company can take care of, so make it a point to first check out credentials. Too many home and business owners take the risk of letting someone lacking the training, experience or even licensing address one of the most important aspects of their structure. The worst part about it is that an improper installation of furnaces, boilers, and heat pumps can lead to safety hazards or heating repair needs.
If your heating is not correctly installed it may seem to be functional, that is until you notice you have ongoing repair needs or that your monthly utility bills are much higher than they should be. Ultimately, this could even lead to the need for replacement – long before it should be time. We are the best at what we do and that shows in the quality results that we get for every job, every time.
Top Quality Heating Installation
So what makes us the number one choice? Aside from having over 11 years of professional industry related expertise, we are fully licensed and insured, as well as EPA Certified for commercial and residential projects. We will first provide you with an estimate so you know what you are getting into and don't get any surprises once the job is completed. Did you know that an actual industry professional can end up installing the wrong size heating system in your home?
It is true and it happens all too often. They either order the wrong size and don't want to wait for the right size to arrive or miscalculate completely. Regardless of why, it happens and you need to protect yourself from this type of practice by only working with reputable experts who care about taking care of the needs of their customers. Our top priority is in providing you with the best in workmanship and quality results so that we can build a long term, working relationship.
The Heating Installation Pros in Old Chatham, NY
Don't take a gamble or settle for less than the finest, when it comes to your heating installation service requirements. On Demand Heating & Air Conditioning is the name to trust in for any and all of your heating service needs; we promise to provide you with 100% satisfaction. Get in touch with us today in order to make sure that you get the high quality results that you should be able to expect from a professional heating contractor.
If you are looking for a reliable heating contractor for heating installation, please call 518-701-1098 or complete our online request form.